11 Jun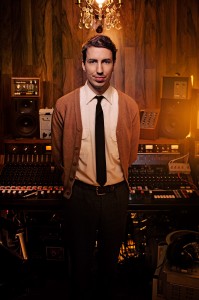 Christian Gabel – bl.a trumslagare i Bob Hund – har kommit upp med ett minst sagt spännande projekt; Krater.
"In the early nineties Christian Gabel found a set of illustrations that seemed to be concept art for a film production. The artwork was dated 1982 and depicted scenes from his hometown Karlstad in post-apocalyptic ruins. In spite of research, no further information about the artwork, the artist or the (possible) film has been found.
Many years later Christian started toying around with the idea of writing a film score for the concept art and the film never made. Krater is the result."
Man kan ju bara pressa sina små tummar blåa och hoppas på att filmen faktiskt blir av efter det här. Eller att man kommer att kunna få del av illustrationerna och musiken live i något sammanhang. Hur som helst är musiken vackert filmisk där de analoga syntarna jobbar med förrädisk svärta och passar perfekt till de gamla illustrationerna. Krater är även ett svenskproducerat dataspel där Christian har skrivit musiken. Här kommer smakprov på det hela, den officiella releasen är den 30 Juni.
http://soundcloud.com/christiangabel/krater-prolog